Thanks to many of you, the "soon to arrive" Christmas of 2014 will remain a memorable one in the lives of the children.
We typically forego buying things like winter coats and warm shoes and long-jons for the children until Christmas, so they add to the excitement of "gifts under the tree". However, the "wait" doesn't defray the expense in any way!
This year is no exception and different groups and individuals have sent funds to facilitate the Home of Hope Christmas this year.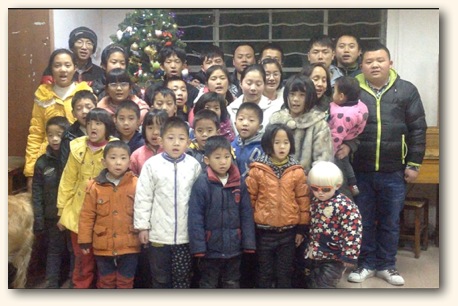 Since Christmas is during the week, there are quite of few children who won't be here until Christmas eve… due to being away at school or in their last year of High School "out work" programs.. (Many of the children actually work at a real job in their area of interest for their last year of High School credit.)
The excitement of decorating and getting the Home of Hope ready for Christmas (a pretty large chore in it's self) will fall on the shoulders of the staff and those thirty some children who are able to stay at home and help in the evenings and on weekends.
On Christmas Eve, another sixteen or so children will be arriving to make things even more exciting…
Several of the Home of Hope Alumni visit for Christmas and that too is always an added source of excitement for the children to see their brothers and sisters again.

In anticipation of the fact that the rec room would need to be readied by the staff and children during their free time, we started early and did a little here and a little there as time would permit.
The platform was designed and fabricated by Nathan several years ago and is like a jig saw puzzle.. in that it has to be put together a certain way for it to work at all.
Once all the pieces are together in their proper place the covering is installed and we really believe it would hold up a car!
It has for sure withstood children jumping and dancing and doing all kinds of things and the group assembled it together well.
Of course when it comes to wrapping the gifts, only the staff (which now includes several of the Home of Hope children who have grown and work full time at the orphanage… we call them alumni..) and visiting foreigners or visiting Chinese friends who are called on to help, get the pleasure of wrapping the gifts.
In the pictures above, the two on the left are a sample of winter coats (left) and heavy long-jons (right) that we have been able to purchase for each child this year. We have also been able to get each child warm, winter shoes (not shown). This was all made possible by your love offering to the Home of Hope children's Christmas.
As a bonus and quite unexpected, a group of business men in Henan Province provided many stuffed animals which will also be wrapped and given to the appropriate aged children. (Above pictures on the right.)
One note of interest… in a meeting we had late, last week with the staff and those planning activities for Christmas this year, we expressed some disappointment about how each year, each age group of children always selected, practiced and performed a dance (as shown above). We were fairly expressive how we would also like to see short skits from scripture depicting various parts of the overall Christmas story.
We were quite outspoken in this regard and were pleasantly surprised to hear there were  indeed going to be dances but there were already plans for skits and songs accurately depicting the Christmas Story. Oh the joys of a cross culture effort of planning and organization!
Thanksgiving
As great as our Thanksgiving was this year, we did not issue a Thanksgiving Day Update on the website.  We thought we would at least show you a couple of snap shots of our Thanksgiving.
This year it was held in GongYi and there were 28 people for Turkey Dinner at the Bell house.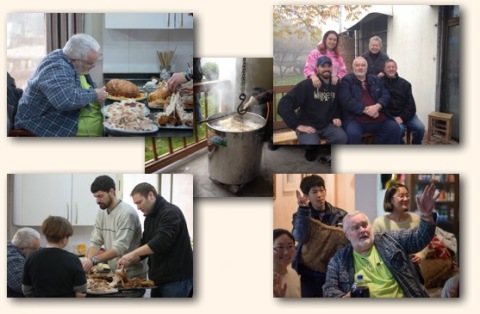 Bob Sayre, Ben Godard (the XuZhou and PingYu administrators respectively) and Nathan deep fried turkey outside in the cold… center insert shows the boiling oil with chain and hook used to safely lower and raise the turkey.
The other snaps are (left to right, top to bottom) Nathan slicing a Ham, the three Home of Hope administrators, the turkey being carved and we aren't sure what the caption should be for the last photo.
Again, we wish to express our deepest and heart felt appreciation for all you do for the Home of Hope and the children of China!
Blessings!
Posted: December 20th, 2014 under Uncategorized.
Comments: none