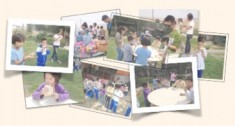 October 1st of each year kicks off a week long national celebration commemorating the establishment of the People's Republic of China.
Not so much unlike July 4th in the States, the week long celebration is filled with fireworks, many and varied activities, parades and special programs for young and old alike.
At the Home of Hope we set aside one day during this special week as our special day to celebrate with the rest of the country and we took the children to the Yellow River for a day of picnicking and play.

There were tons of things for the children to explore and activities to enjoy including rides to ride and games to play and towers to climb… things that bounced and things that rolled around… so many interesting and exciting things.
Of course after a full morning of play and being fully immersed in physical activities, the children were for sure ready for lunch.

As we observed the sheer enjoyment the children were experiencing, we couldn't help but go over the history of each of the children in our mind. Some came from very tragic backgrounds and were old enough to remember much of those sad and miserable times.
Others came to us as abandoned new borns and had no idea of how their life was or how it would have been if they had not come into the Home of Hope. As these reflections came flooding into memory, one couldn't help but be amazed at the impact the Home of Hope has had on so many young lives.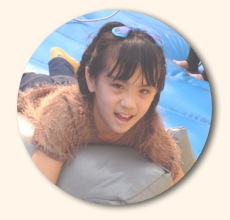 As an example… Little Mary.. shown here simply having a ball as can be observed by the abandoned look of happiness you can see on her face. (Left)
It wasn't long before she was joining in on the "Tower Climb" which is a vertical wall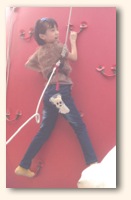 with hand an feet grips allowing a child (or an adult for that matter) to climb up to the top… about twenty five feet up.
Obviously, it's quite safe. The base is like a large, bouncy balloon filled with air so if the climber does fall, they won't get hurt and as you can see in the picture to the right, the climber is also secured by a tether rope.
So, one might ask, what is so unique about Mary climbing the wall? When Mary came to us as a newborn, abandoned baby, her right foot was twisted around to the right more than 55 degrees and we couldn't get any doctor to do anything to help her condition. According to all the doctors we visited there was little that could be done for her.
We took her to LuoYang to a special hospital for children with bone maladies… also to several hospitals in Beijing. At least three hospitals in ZhengZhou… all with the same answer. There was nothing that could be done. So we decided to do what we could to help her in our own nursery, with our own staff.
We gave the housemothers special instructions on how they were to massage her feet every day for a minimum of two hours and while they were massaging her feet, to hold the crooked foot straight to match the angle of the foot that did not have the problem.
It wasn't long before we were pleasantly surprised to see improvement and by the time Mary started learning to walk, both of her feet pointed in the same direction and looked identical. To this day, the problem has not come back.
We are so grateful for Mary and so many other children just like her who have come with major problems only to see them melt away as love and care takes over.
Please remember, stories like Mary's and others would not be possible if were not for your prayers and financial support.
We are very aware of the sacrifice you make month in and month out and so appreciate knowing you are in this battle together with us as we bring hope to the less fortunate people of the world.
More Snapshots from the outing
Posted: October 17th, 2014 under Uncategorized.
Comments: none