"Moses" (Mosie) Xiong En
When we first saw him on that cold night in October, 2000, we were almost afraid to take him in. He looked like death waiting to happen. We are ever so thankful that God brought him to us and used his arrival to open the doors to our taking in many more abandoned babies.
We named him Moses because we had to hide him for almost a year.
---
The following film clip is of Moses (with Ruthie) during his first year of living at the Home of Hope. We have cut the clip into two parts for faster downloading times.
Just click on the little white arrow in the center of the screen above and the film will start. You need to have Flash Player installed on your system to be able to play the video. If you don't have Flash Player on your system you can download it -click here- for free.
Name: Moses (Mosie) Xiong En
Date joined Home of Hope: October 12, 2000
Meaning of Name: Thanks to God
Gender: Male
DOB: October 12, 2000
How Arrived: Our first abandoned baby brought to us by the police on a very cold, rainy, icy night in 2000.
Condition on Arrival: Sever cleft lip and cleft palate
Present Health: Excellent with the exception of susceptibility to colds due to the cleft problem in the past.
Personality: Very outgoing, very loving, smart and all boy!
Education: Doing excellent in kindergarten
Sponsorship: Moses is sponsored
Click on the following links to see Moses's other photo albums.
Moses's 1st Photo Album
Moses's 2nd Photo Album
Moses's 3rd Photo Album
Moses's 4th Photo Album
Moses's 5th Photo Album
Moses's 6th Photo Album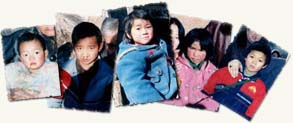 ---