Summer Fun
GongYi Home of Home Summer Outing:


Awhile back, Ye Ye (Nathan) picked up an inflatable raft with a transom on the back for mounting a small outboard engine.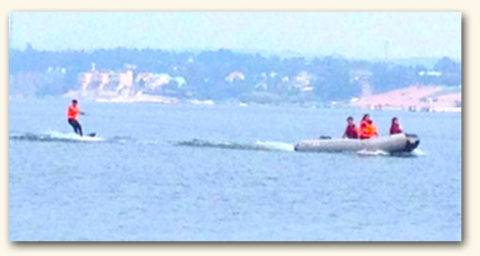 After some diligent searching we found a 15 HP Yamaha and picked it up for a very good price. The two (raft and engine) work fine together and are just right for pulling the children around on tubes, a zip sled or skis. (Don't even try to pull Ye Ye out of the water with this combo! ) We did try however, and I ended up totally water logged with never getting up on the board. After that fiasco, it's pretty hard to convince these kids that once upon a time I was pretty good on a kneeboard….!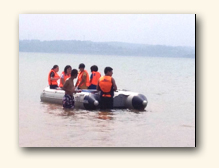 Initially, the children were afraid of trying anything in that huge body of water. For many of them it was the first time to ever venture into a lake that size.
But it wasn't long until Mosie was really doing good on the knee-board as you can see in the picture above, he is standing up on the board like a large ski.
The kids also enjoyed just loading into the inflatable and going for long rides around the lake.
The lake is actually a man made reservoir and with the year long draught we have had, it is about the only place we can go now to enjoy any type of water activity.
For years, we would go to either the Yellow River or a subsidiary river called the "Yi Luo" River. However, we have been in draught conditions for almost two years now so if we want to have activities around water (boating, camping, fishing, having picnics and such) we have to go to a reservoir and the nearest one to us is in Luoyang called the Lu Hun Shui Ku.



Many memories were made during our time at the lake. One of the most memorial to me was I had never seen so many hot dogs cooked over an open fire at one time in my life. The boys had fabricated this contraption (right) that served as a grill and I didn't think it would work but it sure did! I was quite proud of them as I had nothing to do with the planning or the fabrication proving how much our children have learned and matured over the years.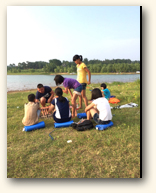 As always we must acknowledge that if it were not for you this ongoing work with these children could not continue. There is not enough room here to say it loud enough but, "Thank You"!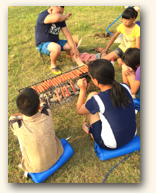 We do ask for your prayers! As our children get older they are more and more exposed to outside forces we cannot directly contend with and they are so easily influenced since they are hearing from their native teachers and regardless of how close we are, we will always be "the foreigner". We know each child came to the Home of Hope for a particular purpose and we simply want that purpose to be fulfilled!…. so again, we request your prayers.
Blessings to you and yours! With a heart full of gratitude!
Posted: July 19th, 2016 under China Tidbits, Special Activities, Uncategorized.